How often have you passed by a government hospital, sparing but a cursory glance at the scores who create makeshift shelters by the gates, waiting for their family members to get treated? Khushroo Poacha did more than just cast a glance at the people outside a hospital when he went to visiting his ailing mother in Nagpur.  Overwhelmed by the sight, he started a 'Seva Kitchen' that now feeds thousands of poor patients and their attendants in three Indian cities.
It all began in March 2014 when Poacha, an Indian Railways employee, whose ailing mother was admitted to a hospital in Nagpur for brain surgery, noticed how people thronged outside the hospital with their meagre means. "I would regularly come across people waiting for their relatives outside the hospital, cooking rotis on brick kilns with wood fire and consuming them with salt and chillies. I was quite affected by their plight. When I casually mentioned this to my mother, she asked me, 'Why don't you do something?'" Poacha says in an exclusive talk with IPOSITIVE.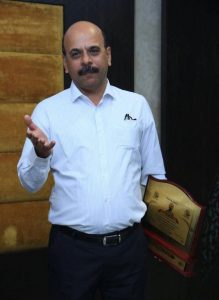 I would regularly come across people waiting for their relatives outside the hospital, cooking rotis on brick kilns with wood fire and consuming them with salt and chillies. I was quite affected by their plight
However, with his mother's illness and the circumstances, it was only after some time that Poacha was actually able to find a plausible solution to his mother's question. Two months later, Poacha's mother passed away and after six months he decided to honour his mother's wish. With the help of a friend, he began to distribute food packets procured from a hotel to the people outside the hospital on Sundays, the day hospital canteen was closed and Seva Kitchen was born.
Concerned over the costs, Poacha decided to serve food cooked at home, which also allowed him to feed a much larger number of people. Soon word spread and friends and other people from the city began to approach Poacha, asking how they could contribute with money and things.
This is perhaps why Seva Kitchen stands out among other NGOs – they do not accept money from people under any circumstances, a rule that is adhered to very strictly under Poacha's aegis. When after a couple of months Poacha felt that others must be allowed to contribute, he told everyone that the help would be appreciated if instead of money, people could contribute food to be distributed among the patients and their families. The idea of 'Seva' – selfless service thus came about and people began to bring in home-cooked food to be given away.
Coordinating the initiative must not be an easy task, we ask Poacha, given his full time job. But he says it is not too difficult. Poacha has created Whatsapp groups for the different Seva Kitchens and every Friday and Saturday, the volunteers are informed about the number of food packets required for Sunday. People then contribute food according to their preferences.
Poacha's other initiative which takes off from the Seva Kitchens is the 'Neki ka Pitara'. The Pitaras are refrigerators, or Whizicoolers that one sees in departmental stores for storing ice creams and cold drinks, that have been installed in several hospitals with the aim to provide some nutrition to patients and their caretakers. "One of the donors from Canada wanted to contribute a substantial amount of money and I considered installing a unit in a hospital that would be filled with refreshing drinks, bread, biscuits, fruits, etc by volunteer donors", Poacha explains.
After the first Neki ka Pitara opened up in the Central Indian Institute of Medical Sciences in Nagpur, a request was put in by the Rashtra Sant Tukodji Regional Cancer Hospital in Nagpur for a Neki ka Pitara on their premises. The cool drinks and refreshments that are stocked in the Pitara are a boon for the cancer patients, especially those suffering from oral cancer, who can't consume regular food.
Today, there are eight Neki ka Pitaras installed in different hospitals in three cities – Hyderabad, Nagpur and Thane – which are opened twice in a day by a social worker assigned for the same. Patients and their caretakers can come to the Pitara at these times and take whatever they need free of cost. "These fridges are stocked on a rotation basis by volunteers who are assigned numbers according to their turns and are made responsible for stocking the fridge when the supplies are exhausted.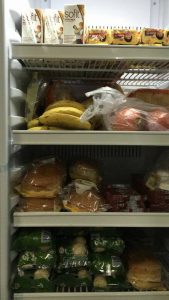 There are some 30 volunteers for each fridge and the assigned social worker from the hospital posts the picture of the empty fridge on the [WhatsApp] group and the next person in line fills up the fridge", says Poacha .
The volunteers for Seva Kitchens and Neki ka Pitaras come from as far as Jordan, the UK and the USA. Since there is a strict rule regarding non-acceptance of money, these volunteers from other cities and countries contribute by donating fridges for the Neki ka Pitaras or buying meals through such forums like www.donatekart.com, where in collaboration with NGOs, Seva Kitchen runs campaigns to feed people. Interested donors can buy their preferred number of meals on the website and once the target is reached, the meals are distributed among the people.
"One such campaign of ours is where we have set a target of 5000 poori-bhajis. The cost of each meal is Rs 32, so each person can buy as many plates of food as they wish to contribute and once the target money is collected, the food is prepared and distributed," Poacha explains.
Read carefully, and again you will notice that there is no exchange of cash anywhere in the entire operation of the Seva Kitchen and the Neki ka Pitaras, a fact that is a source of immense pride for Poacha. He says, "One of the key reasons why people join our groups is that there is absolutely no money taken from people. 99% of the times, I don't even meet the donor involved and all the communication is through phone or emails. Any person can get in touch with me over phone and become a part of the Seva Kitchen. All they have to do is follow the rules".
With these initiatives, Poacha has one aim and that is to accept "no money; just bring people and things together" to feed those with not enough means to meet their expenses when undergoing treatment. "The whole concept of Seva Kitchens is completely opposite to that of the common understanding of NGOs. Because we have a system where the only goal is to ensure that people do not go hungry, people join us because they have faith in this system. The system is also very simple and essentially believes in human kindness," Poacha explains. In the nearly three years of its existence, Seva Kitchen has become a boon for patients in hospitals with the human kindness and zeal of one man.