Off late, increasing pollution, improper waste disposal, garbage spilling on to the streets has become the order of the day in many cities across the country. We may all be advocates of a neat and clean society, pollution free environment; but how many of us actually make an effort to clean it up?
Pahal-ek Prayas, an initiative that started in Meerut, Uttar Pradesh, is a non-profit and run by volunteers. It works for the cleanliness of our cities and hopes to build a clean, hygienic and 'casteless' India. Founded by Dr Vishwajeet Bembi, Pahal-ek- Prayas is a registered NGO that was founded in 2014.  Interestingly, this initiative was taken up just a few months before the Swachh Bharat Abhiyan mission that was launched by the Prime Minister on 2nd October, 2014. Today it complements the government's campaign and the  results are for all to see in Meerut.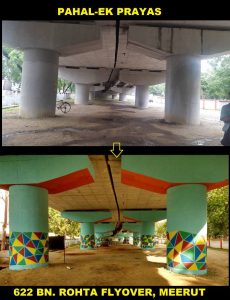 Pahal comprises men and women from all walks of life who enthusiastically participate in what they call 'one family and one India' mission.
Dr. Bembi was inspired to take up such an initiative after he started talking to children, who visited his clinic, about keeping their environment clean, to throw garbage only in the dustbins etc. He had visited a number of countries around the world and used to wonder at the spotless streets and high standards of cleanliness in the cities. He soon realised that people can keep their environment clean when they do their work themselves.
The organization today has over 350 volunteers and claim to have cleaned up more than 166 spots throughout Meerut city. They meet every Sunday and take up a spot that needs some sprucing up. The initiative has inspired other cities to take up similar tasks as well.
"The fact is that, small groups of ordinary citizens with full time jobs and families, have come together to show the results exponentially. They are not only highly motivated but also very disciplined and dedicated. Their main agenda is to keep inspiring others with their work. Encouraging the involvement of all sections of society without any discrimination is our aim", says one of the volunteers.
The need of the hour is to have community-based programs that can really make people aware of how to keep the environment clean. Such activities help the community as a whole to understand local issues better and help them take necessary initiatives to improve their immediate environmental conditions.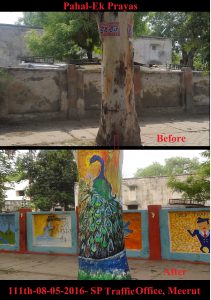 At Pahal – those areas which have become dumping grounds for trash are identified and chosen as the spot to be taken care of. All necessary arrangements are done to clean and beautify the spot by painting or plantation or installation of dustbins/benches/urinals and then the fixed spot is handed over back to the local people to compare with the previous one.
Those volunteers of the NGO who are also artists paint walls with beautiful and informative slogans while a group of women and men sweep different stretches of a road. They have already placed more than a 100 dustbins throughout the city of Meerut at various locations. From planting trees and flowering plants to preserve nature, they go on to create awareness.
They are also involving school and college students through presentations, interactions, group games and other educational programs. The work of this NGO also featured in the Prime Ministers' 'Mann Ki Baat' where he applauded the work done by them. Their work has also been highlighted in other television programs.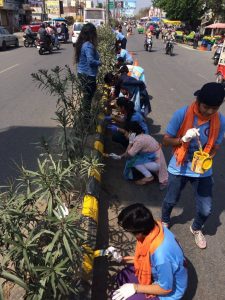 "Lasting results are seen when ordinary citizens participate wholeheartedly. People like us can help spread awareness and support such initiative by our personnel actions. If you want to make a change, begin by doing something instead of just sitting back and blaming the government or the system", says Tumul Kacker, a Pahal Vounteer, "Ours is a apolitical campaign inspired by just patriotism".