Till we can reduce the rural-urban divide in India we can never progress properly', says Ravindra Vikram, the young activist lawyer who set out in the field of social activism more than a decade back and established 'Indian Centre for Rights and Development- iCFDR' in 2013.
Ravindra strongly feels that this divide is hurting our country immensely. It is perhaps this passion and his positive attitude that reflects in his works too. His association iCFDR brings much positivity to the world and can be both infectious and inspiring.
Hailing from a semi-urban region of Badaun-Bareilly in western UP and brought up in the cosmopolitan cities of Dehradun and Delhi, he had had first-hand experience of the undeserved disparity between the division of economic resources and disparity of opportunities in the rural and urban spaces in India.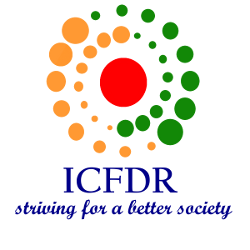 Before delving full time into social activism, he started with volunteering with various social organisations in Delhi during his college years and his youthful dreams and ideas of changing the world were developed then. Gradually the inertia transformed into many social experiments and finally ended up with the launch of iCFDR, which in its early years focused more on rural areas, supporting rural kids to join formal education system and developing volunteering programs.
iCFDR's primary mandate is to fill the gaps between a governmental policy and the on ground implementation of such policy, apart from its many in house projects. iCFDR was also part of team to establish a degree college, RPSS College, in Dataganj block of the Badaun District, which was a a first for the rural region there.
One of the more successful projects of iCFDR has been Easy Classes, where volunteers work in urban slums to provide young, poor kids access to schooling. The organisation is already working in four locations in Delhi and plans to expand this to 10 this year. Currently the team at iCFDR is busy with Covid Relief Campaign; in the first distribution drive they donated ration kits to around 200 families of daily wage workers in three mirco slums of South Delhi. iCFDR is also developing an Arts and Culture project based on the History of Delhi.
Ravindra believes that social activism blesses both the giver and the receiver. He is a firm believer of the notion that helping others gives you inner peace and joy.
"There is a positive personal growth in being part of a change that is much bigger than you. Knowing that most contributions in our organisation are voluntary, it restores my faith in humanity," he adds.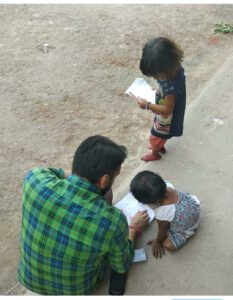 Ravindra says the importance of youth inclusion is his top priority. He believes that the youth nowadays are energetic and opinionated since access to information has become easy. However, it is important that the connection with wider world problems is not lost in the era of growing consumerism. iCFDR is to give such qualities a purpose. It has developed a three-year Social Work Leadership Program (SWLP) certificate course too.
From combating policy paralysis at the rural areas to aiding the development of urban slums, iCFDR has given a helping hand to those most in need, it is heartening to see such efforts from young social workers who give up their corporate life for grassroots adventure.
But the journey of iCFDR   and Ravindra has not been easy. They have faced hurdles on the way. Elaborating the same, he says it's not unique. All social organisation and activists go through similar issues – paucity of funds, credible mentors and lack of trained helping hands. For a volunteer based organisation the manpower is the most worrisome because new people come, learn the ropes and move ahead. During these bleak moments, right motivation and commitment are the two very important tools that come in handy and make one sail through. Of course you also require help of those who understand you.
Finally, when asked about the takeaway from social activism for his personal life Ravindra says he doesn't understand the world like that. For him social activism is a passion from is youthful years and has now become a part of life. He feels he was never meant for the management corporate roles. Now with his completing his law studies and becoming an advocate, both the professional life and the activism's life have found a common ground where it becomes easier to understand the gaps in the system. His interactions with the aggrieved are on regular basis and chances to create a positive change multiply manifolds.
He believes the combination of law and social activism to be most efficient for his own personality as law keeps him consumed even as he sees everything else falling apart. He feels a 'functioning' justice system is important to bring a ray of hope not only to the aggrieved, the poor and the marginalised but also to activists like him, time and again.