I still remember my days as a kid when I used to go to sleep with my Grandmother's stories related to historical narratives, myths, and mythology every night. The visits to different monuments and heritage sites with my parents, reading books either in the school or public library, visits to craft fairs and local haats (markets) acted as my windows to the culture and heritage. In eighth grade, I was an audience for a Manipuri Dance Lecture-Demonstration (Lec-Dem) by legendary couple Guru Singhajit Singh & Charu Sija. This was my first real live experience of a dance performance. Well, I will be honest here, I didn't connect a lot with the performance at that time as an ado

lescent, but that feeling, that experience grew with time, more robust with every Lec-Dem, conference, workshop etc.
I don't claim to be a Culture and Heritage wizard, but yes, my journey so far exploring Culture and Heritage has been enriching. And all the experiences that I have had so far as a student and now as an educator (and as a theater artist and storyteller) make me a strong advocate of establishing Heritage Clubs in Schools. We have to start early! Much before the influence of digitization casts its forever spell on our children! Before they get swayed away in the Meta-verse by the virtual world pied pipers! We need to give them fertile ground to grow their roots deep in their culture and heritage, stay grounded and connected even when they trot and take strides across the globe!
Culture and heritage are significant in defining humans as who they are, and it provides an expression to the sense of community and ethnicity. As culture and heritage communicate the spirit of the people who crafted and shaped them, they can help the young generation acquire extensive inter and intra-cultural understanding. The arts are multi-cultural as well as trans-cultural, establishing cross-cultural communication. They help to learn tolerance, openness, respect for diversity and empathy.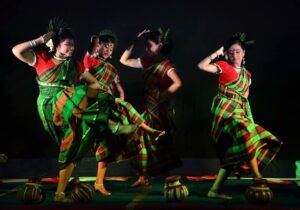 We feel protective about things and people close to us; we value them and connect with them. We can use this premise for learning about cultural heritage because if a child can intimately connect, value and respect cultural heritage without any pressure, they will willingly take responsibility to protect and propagate it.
Through genuine and authentic connections with their culture and heritage, a child will learn to appreciate it naturally and will gladly take pride in being part of it.
When the children learn about the culture and heritage, they should be given enough opportunities to get inspired by various facets of their culture. They must not see the culture through the lens of an adult guiding them; instead, they must create their own varied joyful experiences. This reflective exploration will be soul-deep and personal.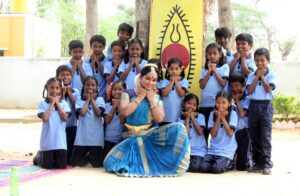 As humans, we want to remain immortal in our thoughts, ideas, and creations even after we are gone; children should be inspired to create and understand what it is like to leave behind a legacy. The significance of culture and heritage for future generations and the benefit of carrying forward this information. Once they can establish this link between past, present and future, they will, without any hesitation, take forward values, ideas, literature, concepts and creations that they love and cherish. And with this, these traditions will carry on generations after generation as long as we create them, learn from them and connect with them.
Once students establish this link between past, present and future, they will, without any hesitation, take forward values, ideas, literature, concepts and creations that they love and cherish.
It is empowering when we can stand up for what we believe in; it is a great feeling to protect, respect passionately, and propagate our culture. This feeling brings together more and more people to help ensure that our tangible, intangible and natural heritage is protected for future generations to enjoy. The idea of having something important to you that defines you, being shared safely to the progenies, gives a feeling of immense happiness, pride and satisfaction.
So let us all vehemently champion through school-based Heritage Clubs for providing an understanding and appreciation of the philosophy, aesthetics and beauty inherent in Indian arts and culture to our children.
Writer is a National Coordinator (SPIC MACAY School Heritage Clubs), a theatre artist, a storyteller and also Principal @ GD Goenka Public School, Ghaziabad