Early this year, exhausted after directing my play, I decided to take some time off for myself. Such was my state that I wanted to escape from the city, not to be seen or heard for some time. I decided to avail of my aunt's long-pending invite to visit her in Uttarakhand. Since the holy city of Haridwar was just an hour away from her place and a place where my heart longs to be, I jumped at the idea! Meeting my aunt and antaryaami– all at one go! I enthusiastically blabbered about it to my family. And then came in the interjections, interruptions and objections from the Big B or big brother. He could not digest the idea of me spending a week or two in the holy city alone.
"Do you know Haridwar is full of thugs and cheats?''.
"Oh, have you done a survey?"
"No, I don't need to, but I've spent more years than you on this planet, more thugs throng the place and in fact any holy place because they think simple, God-fearing devotees can be easily fooled. And they are."
Now the big bro had indeed given me food for thought and he was not entirely wrong. The problem with some people is that if you are polite, they will consider you weak. The mighty need not have muscles; it is the mental power that is of utmost importance. Those of us who are on the path to God-love or devotion or bhakti need to understand that a balance of faculties is needed to survive in this world.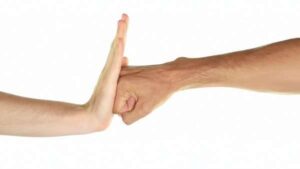 The mighty need not have muscles; it is the mental power that is of utmost importance.
Swami Vivekananda always stressed on 'Vivek' or discretionary intelligence. The mind needs to be aware and alert. Yes, God dwells in all beings. One should be friendly with good people but keep away from the evil-minded. God is present even in the tiger but one can't embrace the tiger on that account!
The question arises, if a wicked person is about to do harm you, should the spiritually inclined stand and suffer? Should one keep quiet? The answer is NO. A person living in a society should make a show of tamas to protect himself from the evil-minded. However, he should not harm anybody in anticipation of the harm likely to be done to him.
NEED TO HISS!
Far back in time, some cowherd boys used to tend their cows in a meadow where a terrible poisonous snake lived. Everyone was on the alert for fear of it. One day a sadhu was going along the meadow. The boys ran to him and warned him of the snake's presence. The sadhu laughed out loud, "What of it, my good children, I'm not afraid of the snake. I know some mantras to shoo him away". Saying this he continued his way along the meadow. In no time, a deadly snake moved swiftly towards him with an upraised hood. As soon as it came near the sadhu, he recited a mantra and the snake lay at his feet like an earthworm. The sadhu said, "Look here, why do you go about doing harm. I'll give you a holy word, chanting it; you will learn to love God and will get rid of your violent nature." Saying this he taught the holy word to the snake and initiated him into spiritual life. He promised to meet the snake after some time.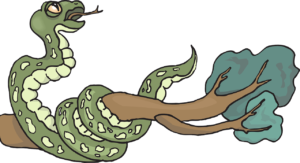 A few days passed and the boys noticed that the snake was not aggressive any more. It would not even bite. They tested by pelting stones on it; still it did not get angry. One day the boys came close to it, caught it by the tail and twirled it around and dashed it against the ground till it became unconscious, bruised and battered. Since the snake had stopped harming anyone and led a quiet life, only coming out of its shelter once in a while to eat leaves and fruit, it did not fight back with the kids.
About a year later, the sadhu chanced to go by the same route again. The gleeful bunch of children told him that the snake was dead. The sadhu knew this to be untrue. He knew the snake could not die before attaining the fruit of the holy word with which he had been initiated. He went further along the meadow and called out for the snake. Hearing his teacher's voice the snake came out of his hole and bowed before him. Seeing his emaciated condition the sadhu inquired about his well-being.
You must frighten them, lest they do you harm. Yet never inject your venom into them.
"Oh! Sir, I'm fine, maybe because I'm living only on fruits so you find me thinner", said the snake.
"But what are those marks on your skin?''
Since the snake had developed the quality of sattva, it had forgotten that the boys had almost killed it. He told the sadhu about the incident and added, "They are ignorant. After all how would they know what a great change had come over my mind and how would they know that I wouldn't harm anyone?''
"What a shame!" exclaimed the sadhu.
"You are such a fool ! you don't know how to protect yourself. I asked you not to bite but I didn't forbid you to hiss. Why didn't you scare them away by just hissing?''
So the moral of the story: you must hiss at the wicked. You must frighten them, lest they do you harm. Yet never inject your venom into them. One must not injure others but one must zealously guard one's own interest.
Believe in God, but lock your car!!!