It was one of those social media posts that get looked up, perhaps liked and then passed over. But the caption forced a re-look. A web search revealed the story was true and the name of Sarojini Agarwal sparked some 2 million hits on the search engine, not all of them relevant, but people with meritorious achievements who do not like to brag, do manage to be found in this age of Net.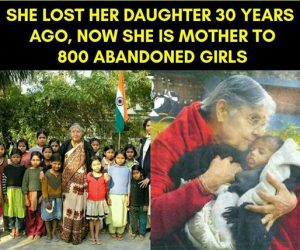 Dr. Sarojini Agarwal gets introduced on the internet as 'Mother to over 800 abandoned girls' and that in itself is something that will hold your interest. In a time when the falling sex ratios are disgracing us the world over, the story of Dr. Agarwal and Manisha Mandir sparks a ray of hope.
'Mummy' as she is called by her daughters, is the only mother that over 800 girls have ever known.
It was on 1st April 1978 that Dr. Agarwal's then 8-year-old daughter Manisha was taken from her in a tragic road accident. The tragedy was not one the family could recover from with ease but over time, Dr. Agarwal began to see the loss as one for higher purpose. "Now that I look back, I think that it was all God's will. He made me an instrument for his good work in the world. I had lost my own daughter but there were so many other girls in the society who had never ever seen their mothers. Maybe I was meant to be a mother to them all. Otherwise I would have simply been a writer, publishing books and getting on with my life," Dr. Agarwal says.
Today 80-years- young Dr. Agarwal, or 'Mummy' as she is called by her daughters, is the only mother that over 800 girls have ever known. This is a role she has donned for enclosing abandoned and orphaned girls in her fold for 32 years.
Manisha Mandir is a 30,000 square feet building housed in Lucknow's Gomti Nagar, inaugurated by Atal Behari Vajpayee in 1992. From two day old infants left in the 'Sanjeevan Palana' to the age of 18, Manisha Mandir is home to all orphans. The girls are educated at some of the best schools in the city, taught to be independent and confident, encouraged to pursue higher education through scholarships and also married when the time comes.
A poetess of repute with over 26 published books, Dr. Agarwal is fiercely agitated if someone refers to the home as orphanage. "I am looking after these girls like my own daughters with all the love, care and attention that people give to their children. Then why is this not a home?" she asks.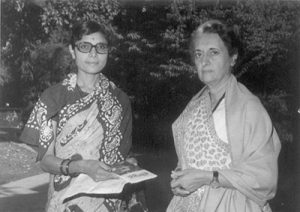 Overcoming her personal tragedy and immersing herself in the affairs of Manisha Mandir and the care of the girls, Dr. Agarwal says that the first four years were strenuous. She had to work round the clock to run the home and also make time for her family and her three sons, one of whom was the twin of her deceased daughter. She did all the work for the inmates at the home and funded her project with the support from her family and the money she made from her books. When asked if she ever sought government funding, she says she never wanted herself and her daughters to feel obliged to anyone, ever, "If you accept funding, there are expectations and obligations to fulfil which I did not want to be burdened with."
Dr. Agarwal has a hectic day which begins at five in the morning and only ends around midnight. While the older girls have been taught to become self-reliant, like every other child is made to be by their mother, she quips, for the younger ones, Dr. Agarwal is constantly on her toes. "I have raised girls from the time they were two-day old and left in my care and now so many of them have gotten married and have children of their own".
Her voice as it buzzes over the telephone is robust; her tone bold and clear and one can make out that she is bursting with energy. She narrates an incident where she took one of her daughters to a felicitation ceremony in Bengaluru recently and recounts how, people showered love and affection without treating us differently.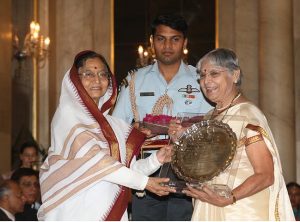 Over the years, accolades and appreciation for Dr. Agarwal's work have piled up. She has been awarded the Rajiv Gandhi Manav Seva award in 2010 by the President of India; in 2007 the Ministry for Women and Child Welfare feted her with the National Award for Child Welfare; in 2014, the Lucknow Management Association gave her the Lifetime Achievement award in recognition of her four decades of selfless service.
But her take on these awards is humbling, "I am glad that there is recognition for the work I have done, but for me it means that I have managed to do well at what I am striving to do at Manisha Mandir. Now that I am growing old, I only hope that all this recognition means more people will follow in my footsteps and give girls like mine the same care and love I have been giving to my daughters through the years."
"I may not have given birth to them, but haven't I done everything else that mothers all over the world do for their children?
The loss of one daughter brought me the love of 800 others," she says. Dr. Sarojini Agarwal is truly an inspiration, proving age is nothing but a number, and all that matters is the zeal to do something and make a difference in the lives of people and in the world.